FacilityBot has adopted a cloud-based Software as a Service deployment approach.
By providing an admin portal that allows full self-configuration, our clients have been able to deploy quickly and effectively with a minimum of fuss.
This approach provides full flexibility to our clients, for example, to toggle features on / off, to create and schedule checklists, and even to integrate with IoT sensors. It not only minimizes the need to have long training sessions but also assures our clients that there are no hidden costs.
To implement this approach, we have provided numerous help resources for our clients on an ongoing and no additional cost basis, including
A knowledgebase with over 150 articles and videos
A "Help Centre" within the admin portal with a live chat with our customer success team
The ability to booking Zoom calls with our customer success team
Numerous page tips and help buttons at the top of pages
Numerous mouse-over tooltips beside fields
A library with over 400 templates of common preventive maintenance checklists
Implementation Timeline
With FacilityBot's powerful admin portal that allows full self-configuration, implementation is quick and straightforward. A typical configuration will involve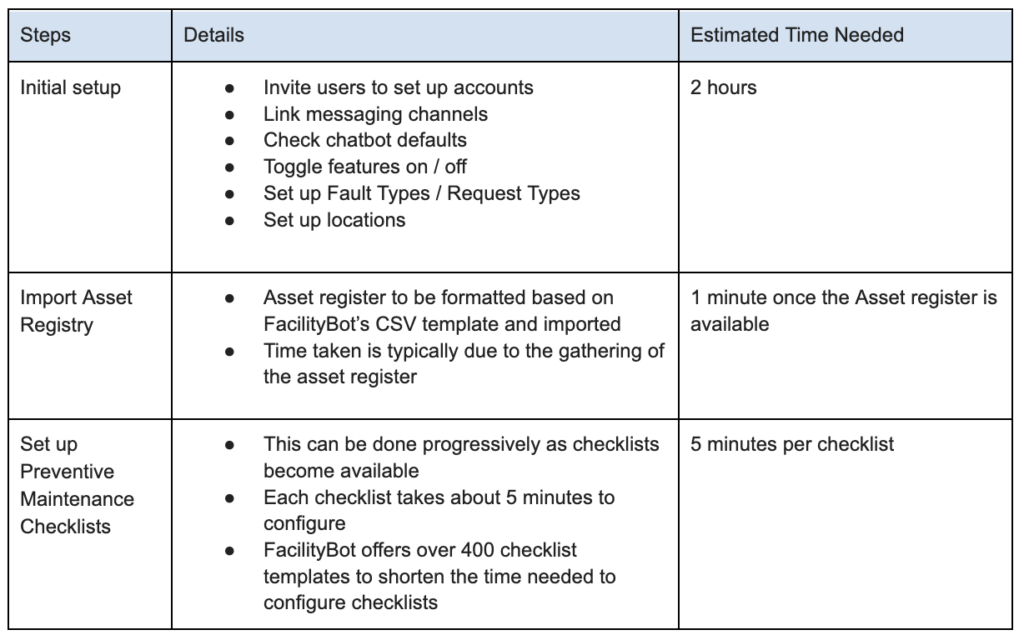 A typical implementation timeline would take 1 month or less.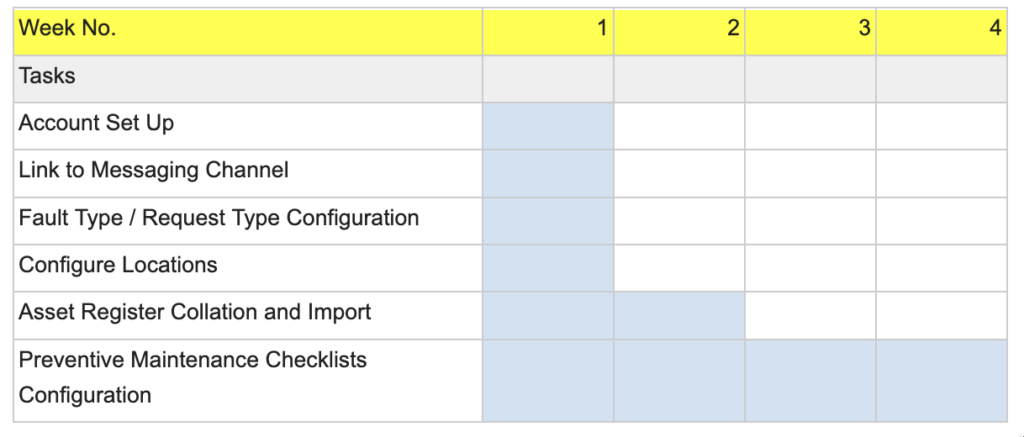 Training and Support approach
FacilityBot has focussed on developing a User Interface and User Experience that minimizes the need for one-off training sessions. With timely page tips, tooltips, and online help resources available, including self-learning courses provided via the FacilityBot Academy, users are guided as they navigate through FacilityBot.
FacilityBot also offers the following support on an ongoing basis without additional costs
In-app chat support with our customer success team
Booking of zoom calls with our customer success team
Maintenance
FacilityBot is deployed as a Cloud-based Software as a Service. Therefore, all maintenance costs are subsumed within the subscription cost and FacilityBot maintains and ensures the uptime of the platform for all our clients.