FacilityBot can be used as a desk booking system.
Managers can easily create zones and desks within the zone using the FacilityBot portal. They can set the available periods and upload the floor plan of the zone. requestors can then book these Desks using their preferred messaging channels.
Creating a New Zone and Desk
Log in to the FacilityBot Manager Portal. 
Navigate to "Settings" and select "Desks". 
Here, you can see the list of zones that have been created, including the number of desks available in that zone.
You can set the Minimum Booking Duration which applies for all zones.
The Maximum Bookings is the maximum number of upcoming desk bookings that a requestor can make across all zones.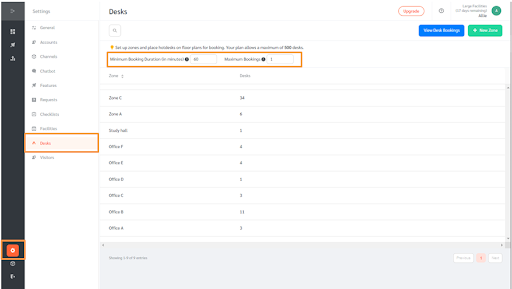 Click on "+ New Zone" on the upper right to add a new Zone.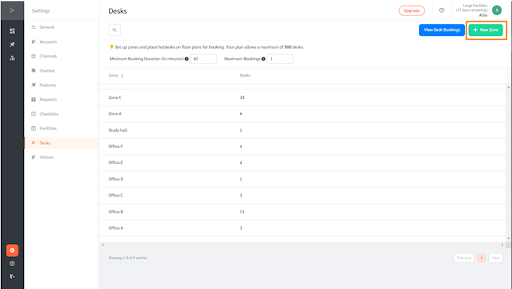 Give your new zone a name.
Select requestor Tags which are permitted to make bookings in this zone
(Note: requestor Tags allow you to group requestors. You can then select the group of requestors that are permitted to book desks in this Zone.)
The Maximum Advance Booking Period refers to the maximum number of months in advance that a requestor can make a booking.
Upload an image of the floor plan for the Zone 
Set the available periods for this Zone. Note that all periods not specified will be regarded as unavailable for this Zone.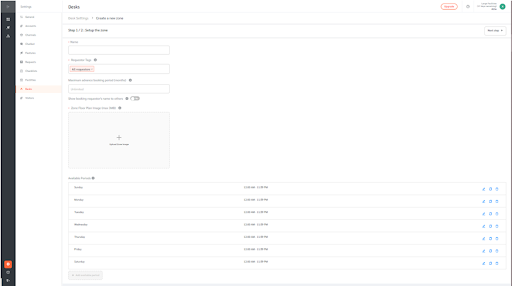 Creating and Placing Desks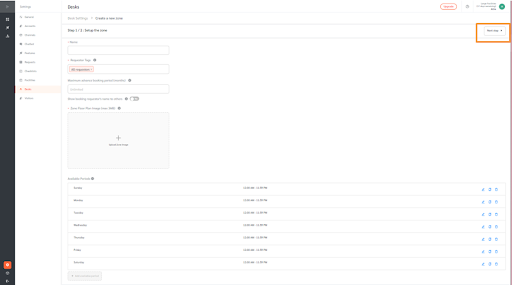 To proceed to place desks on the Zone you just created, click on the "Next Step" button on the upper right.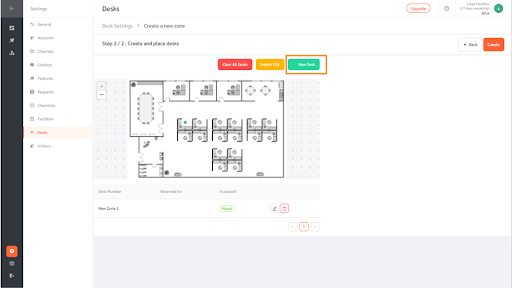 Click on the "+ New Desk" button to create a desk
Enter a desk ID. If you wish, you may reserve the desk for a specific requestor, so other requestors cannot book this desk.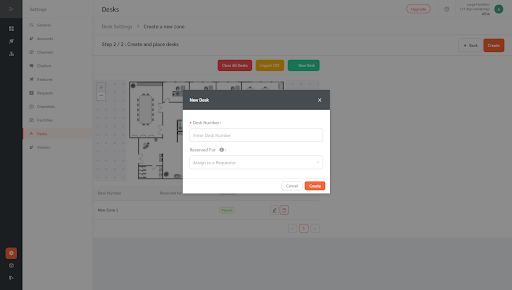 Once done, click on the "Create" button
Place the desk you just created anywhere on the Zone, by clicking on an area of the floor plan.
After placing the desks, click on the "create" button to save the changes.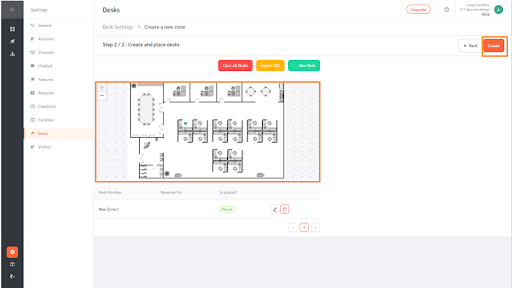 Viewing Desk Bookings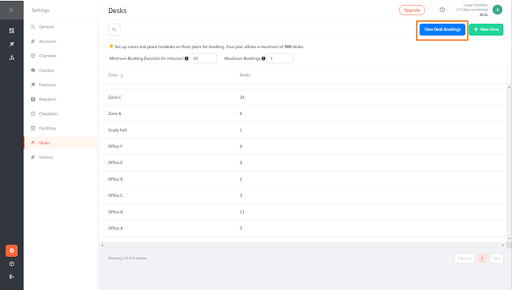 You can view the list of booked desks by clicking on the 'View Desk Bookings" button or by navigating to "Features" and going to "Desks".
The page shows the desks that have been booked including the start and end time of booking, the requestor who made the booking and the zone where the desk is located.
To export the list as a CSV file, click on the "Export CSV" button.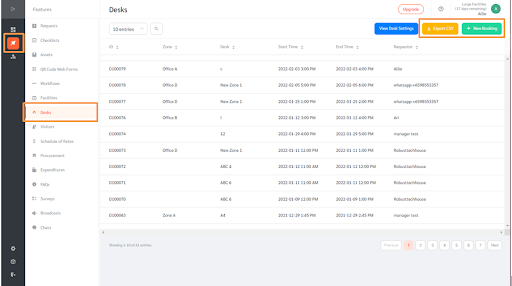 Making Facility Bookings on Behalf of Requestors
Managers can also make facility bookings on behalf of requestors.
To do so, click on "+ New Booking".
Select the date of booking as well as the start and end time. Select the zone and desk you would like to make a booking for and enter the name of the requestor on whose behalf this booking is being made.
To save the changes, click on "Create".