Reporting is a key part of a Facility Manager's daily work. To reduce the need for manual data collation, FacilityBot auto-generates various key charts, and tables to help Facility managers with their reporting tasks.
To access the Statistics, log in to FacilityBot and select Request statistics.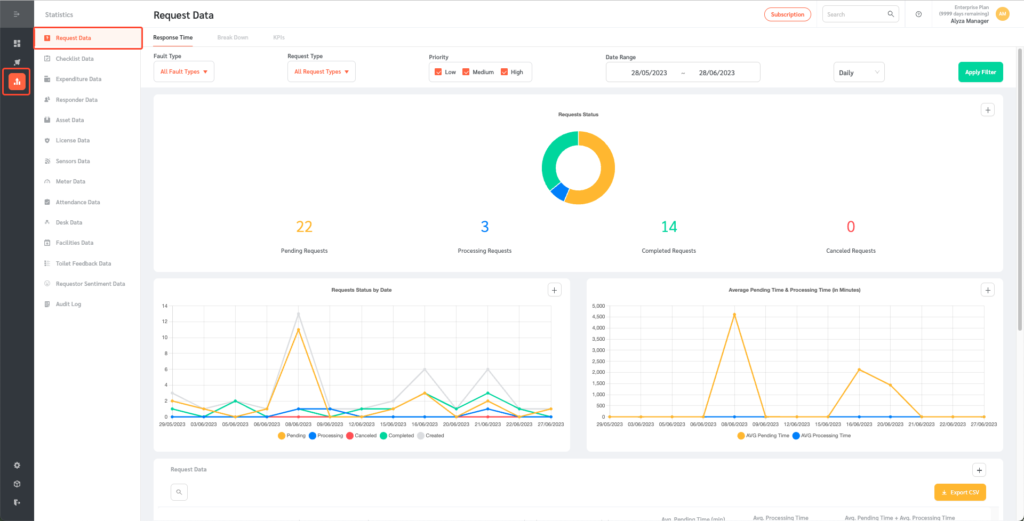 Here, you can view the Request Response Times, Request Breakdowns by different factors, and Request Response times measure versus configurable thresholds (KPIs) set.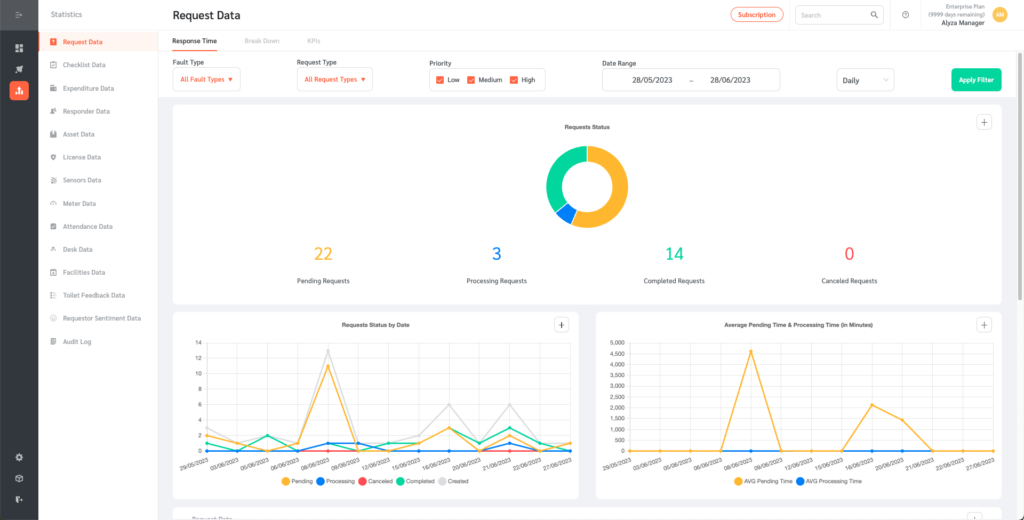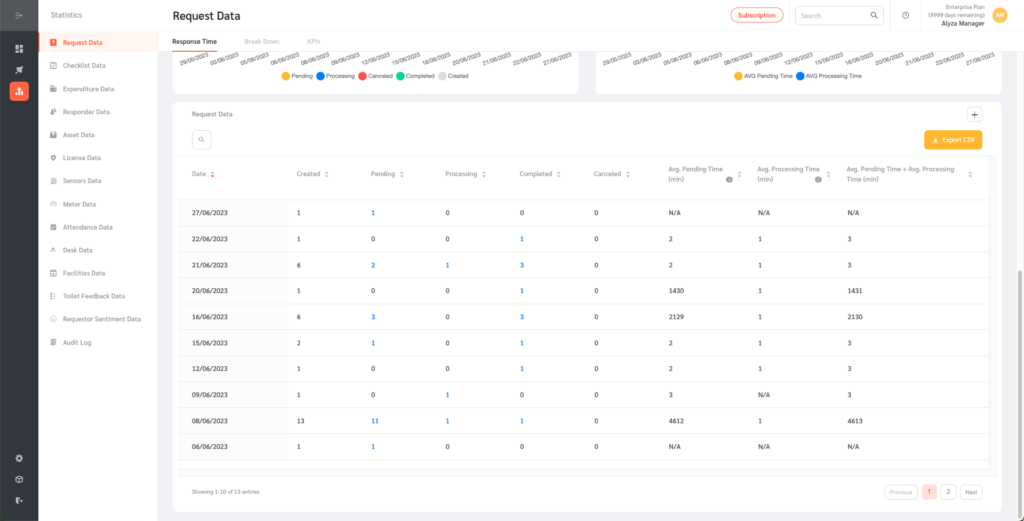 Request Status and Response Times
The response status and response times charts and tables aggregate the current statuses of all requests and their average pending and processing times.
The average pending time is the average time that requests spend in the "Pending" state
The average processing time is the average time that requests spend in the "Processing" state
This can be filtered by Fault Type, Request Type, Priority, and Date Range.
You can also view the data in Daily or Monthly periods
Once all the filters have been added click on the "Apply Filter" button.
Numbers in blue in the Request Data table are clickable. Clicking on these numbers will conveniently lead the user to the requests in question.
Request Data Breakdowns
On this page, Request data is broken down based on Request Types, Location Tags, and the hour of the day.
The Request data breakdowns can also be exported as CSV by clicking on the "Export CSV" on top of each table.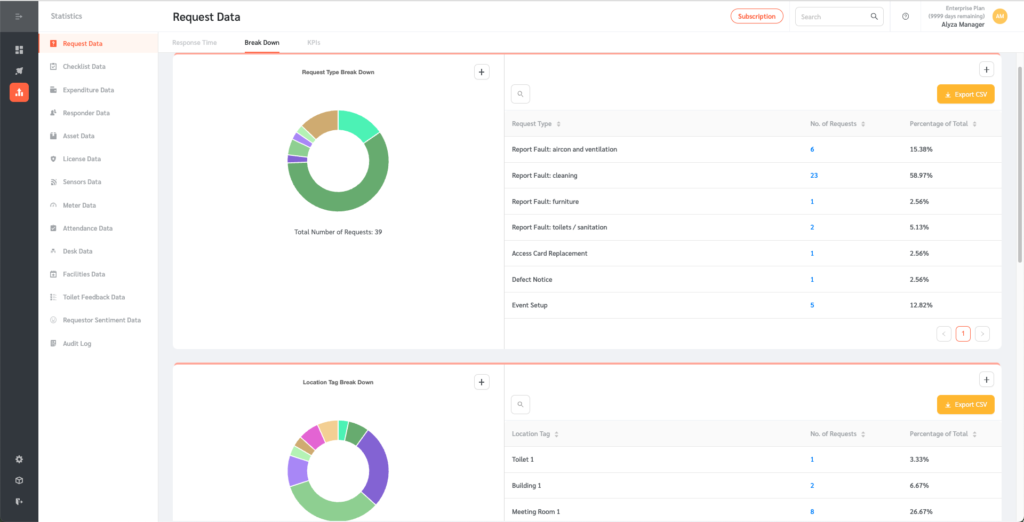 KPIs
This page allows the user to define KPI thresholds based on specified factors
To create a KPI, select KPIs and click on the + New KPI button on the upper right.
An editing panel will appear. Give your KPI a name. Select the set of requests that should be considered for this KPI threshold. For example, a KPI threshold may apply only to requests of specific priority levels, fault types, or request types.
Applicable periods can also be specified. If a request was made within the specified applicable periods, then it will be measured against the threshold.
Once done, click the "Create" button to save the changes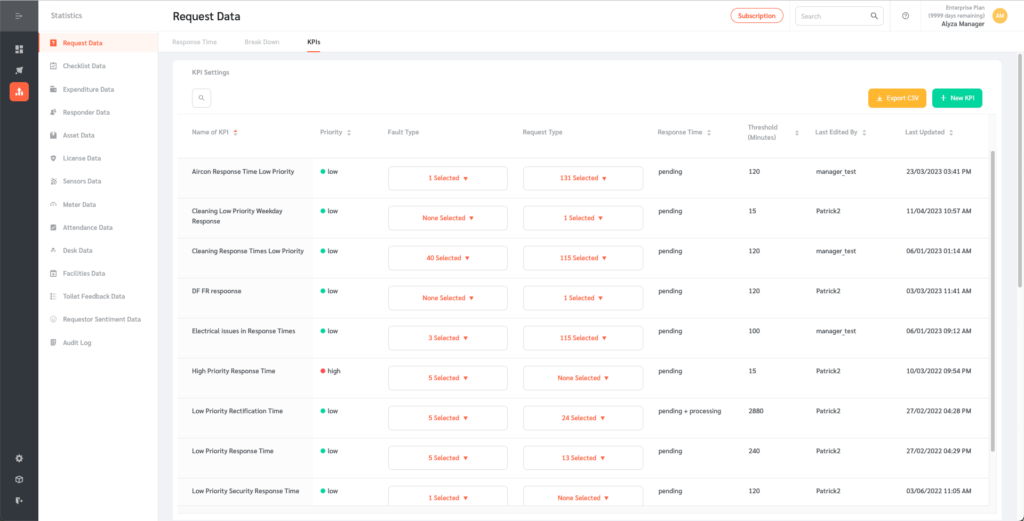 Once the KPI threshold is set, the number of requests that fall below the threshold and the monthly percentage below threshold numbers will be automatically computed.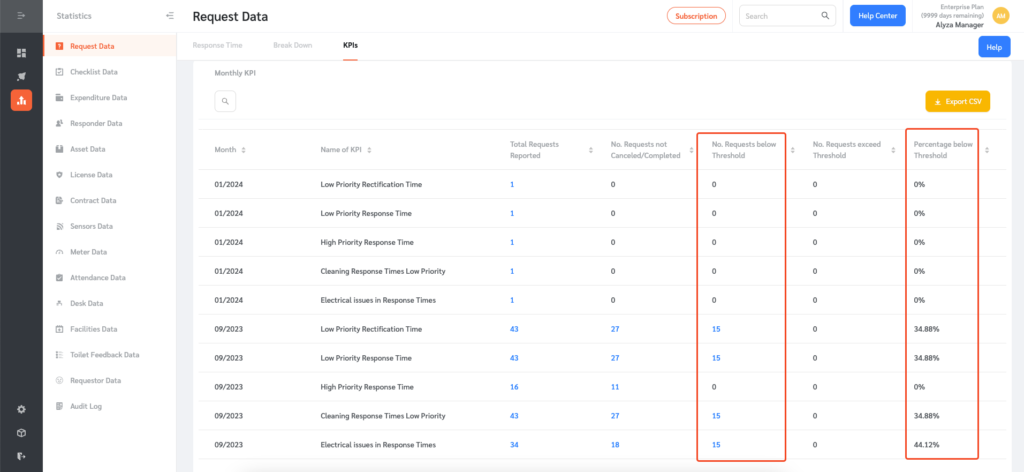 The number of requests that exceed the threshold will also be automatically computed.
The numbers in blue are clickable to show the requests in question.