FacilityBot's Vendor Management feature allows admins and managers to create a list of vendor and track the status of invoices for each vendor. Additional notes and documents such as contracts and agreements may also be attached for easy viewing.
Creating a Vendor
Open the FacilityBot Portal. 
Go to Features then Vendors.
Create a new vendor by clicking the + New Vendor button on the top right.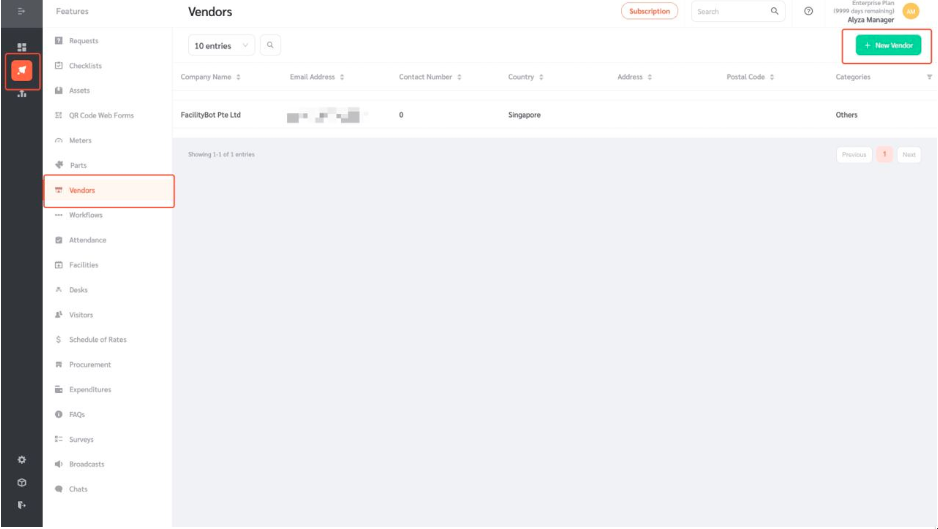 A floating editing panel will appear where you can enter the vendor's information such as company name, country or location, email address, and category.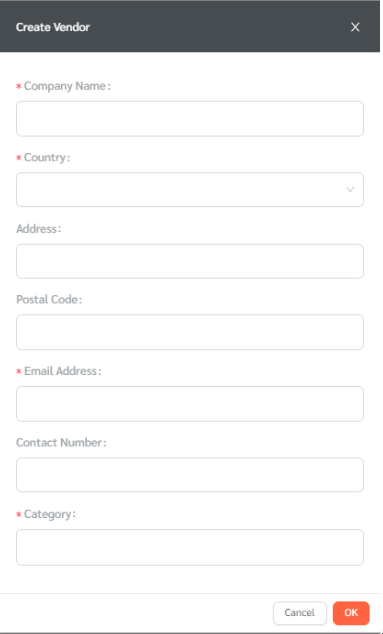 Once all necessary information has been entered, click OK to save.
Configuring Vendor List
On the main page, you can configure the vendor's information, attach additional documents, and link invoices to a particular vendor.
Click on the bin icon to delete the vendor from the list. 

Use the pen icon to edit the vendor's information. 
Managers may also attach additional documents or notes by clicking on the document icon. Managers may add notes or PDF agreements for this vendor.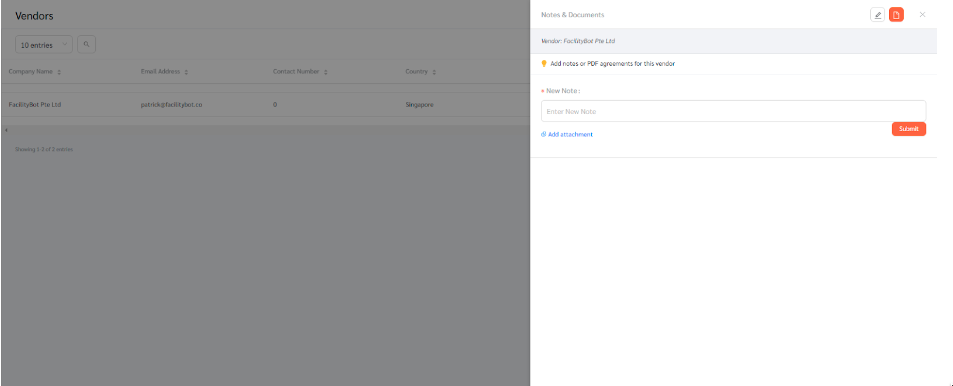 Managing Invoices Related to a Vendor
FacilityBot also allows managers to manage invoices related to a Vendor.
Select the vendor you want to manage the invoice for. 
Click on the invoice icon.

The page shows the list of invoices related to that vendor.
Create a new invoice by clicking on the + New Invoice button.

A floating editing panel will appear where you can enter the invoice number, amount, status, and due date.
The invoice may also be linked to a certain request, checklist, expenditure, or document.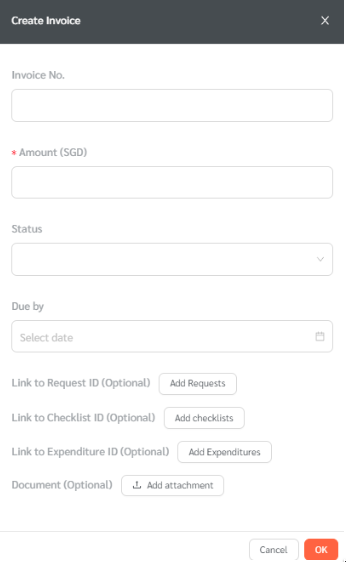 Once entered, click OK.
Once created, managers may track the invoice's history, edit the invoice information, or delete it altogether.
Procurement – Requesting for Quotes from Vendors
The vendor list can also be used to seek quotations using the Procurement feature. See https://blog.facilitybot.co/blog/knowledge-base/manager-web-portal/procurement/